"Sumptuous food with complimentary wine choices. A fun, relaxing and educational evening." - Matt Slee, Tulloch Wines
TGIF! After a long week, there is nothing better than settling in with a glass of wine... Our guests at The ArtHouse Hotel were lucky enough to do just that last Friday!
Lounging on the Chesterfields with a Tulloch Cuvee in their hand, our guests were well and truly "UnWINEd"ing into their weekend. As the last guest arrived and the last of the bubbles disappeared... our first "UnWINEd" dinner began.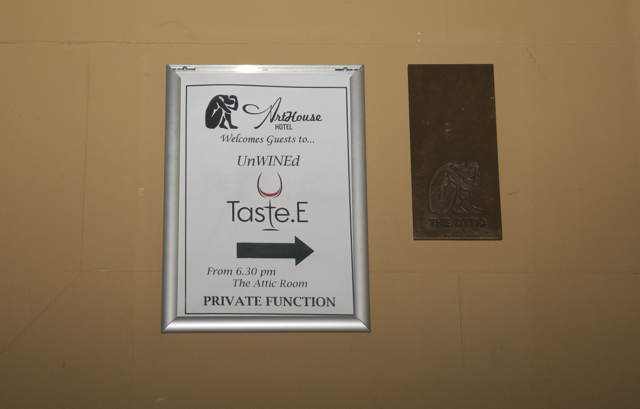 With a brief introduction of the night and a friendly welcome from Matt Slee of Tulloch Wines, our first wines of the night were poured. To start us of we enjoyed a glass of Tulloch Wines 'Vineyard Selection' Semillon and Geoff Merrill Wines Reserve Chardonnay. These premium wines were served alongside our entrée of Prawn Ravioli with Shellfish Bisque. Although the Chardonnay not a typical pairing to a dish like this, the crowd favourite was definitely a hard one to pick with a nearly 50/50 split of preference! As the last of the bisque was soaked up with fresh, dense sourdough ... the eager grins told us they wanted more!
With whetted appetites, a hearty main of Grass-fed Eye Fillet of Beef was served on a bed of polenta, broccolini and agrodolce onions. With a generous drizzle of Salsa Verde, the perfectly cooked meat married beautifully to the Tulloch Wines "Vineyard Selection" Shiraz and the Geoff Merrill Wines Shiraz Grenache Mourvedre. The SGM is a personal favourite of mine and it seems one of our diners on the night as well! Although Geoff Merrill was unable to attend, as he was overseas – his wines definitely left a lasting impact!
The buzz of laughter and the clink of glasses resonated around the room – the ambience was contagious, you couldn't help but relax into it... UnWINEd even.. ha ha
As the hum of conversation subsided dessert was served and I concluded the evening and thanked everyone for supporting another Taste.E event! Wow, such a buzz to see all the smiling faces and empty glasses!
As the Cheese Boards hit the table, Matt finished up the evening talking about the NV Tulloch JY Tawny and Rutherglen Muscat – both delicious pairings to the cheese.
If you have ever read one of my posts before, you would know I am a dedicated cheese lover... so this was the course I was most looking forward to! A three-cheese selection, featuring the gloriously oozy D'affinois, muscatels, fruit and house made Lavosh.
As all good cheese boards should be... this was a leisurely course that everyone took their time over... sipping on their fortified wines. Slowly 2 by 2 our guests filtered into the night and on with their weekends... but I can safely say they arrived, wherever they were going, a little more relaxed...
A BIG thank you to Alice and Candice of ActivEDGE & CC Double You Photography for capturing the night perfectly on film! Stay tuned for our exciting video of the night... coming soon..
­
Until next time,
Happy Eating! x